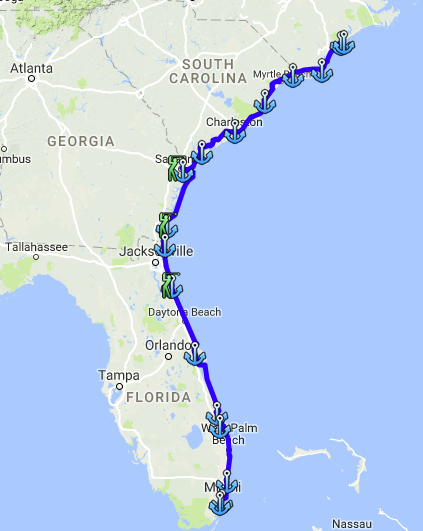 Leaving Charleston, our next stop was Beaufort, SC….a very cute town with fine old homes and new waterfront park. Our walk to the grocery store drew the usual comments about 'are you lost?'
From there is was on to Savannah where the Westin Hotel became home for a couple of days. Long walks around town where Marcia was really at home having lived here for four years. We had a nice dinner with Jim and Brandon,  Jim being an old friend of Marcia's. The Westin golf course was closed so we ended up a Savannah Quarters…overpriced and underwhelmed. Picking up the pace, we headed "outside" on the ocean instead of staying in the Intercoastal Waterway (ICW), and covered a hundred miles that day.
Our friends the Ulrich's had to leave St Simon before we arrived, so it was on to Jekyll Island…got to love this place. Golfers paradise with four courses on this little island, we played Indian Lakes after riding bikes through the old town that is on the National Historic Register. This seems to be the year to see the various homes of the the Gilded Age Industrialists for us! Fernandina Beach was the next stop for an overnight, then on to St Augustine to see some more of the Kisielnicki family. A game of golf at Royal St Augustine with brother Eddie, dinner with Thelma and sister Carol and her husband Don.
An overnight at Titusville, then another hundred mile day going outside thru the Cape Canaveral lock to the inlet, then back in a Ft Pierce. The next morning it was back to the ICW to the St. Lucie River and up the river to visit the Rapps. Marcia get her first par hole in a round of golf with Bob and Tancy. On to Ft Lauderdale for our last overnight, Coconut Grove in the morning.
We put over 400 hours (about 3,000 miles) on the boat this summer, lots of great people and places.