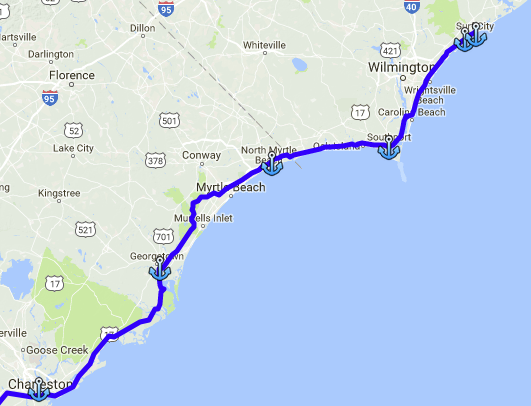 While Dan was making arrangements to have True South shipped from Tennessee to North Carolina, he called Anchors Away Marina near Topsail Beach. On the phone, before Dab starts to describe his needs, he introduces himself with "I am sure you don't know me this is Dan Prigmore from FL", the response is the "the infamous G. Daniel Prigmore?" As luck would have it on the other end of the phone is Dennis Hollishead, ex of Hull, MA where Dan had a summer home for many year.
Dennis and his crew at Anchors Away boat yard got the boat ready from its transport from Knoxville and arranged to dock it at Topsail Beach Marina until our arrival.
We spent a nice week with some of the Kisielnicki clan, Thelma and three of her sons: Steve and Ann, Tim and Kelly, and Eddie. We also had a wonderful time with Tim and Kelly's daughter Claire who learned to dive from the boat.
On Halloween we headed back to Wilmington, NC to pick up True South and start a slow trip south to Miami. Our first day took us from Topsail beach to Southport, a quaint New England look town at edge of Cape Fear and Frying Pan Shoals. Cool night in the 40's with a few days of stiff winds ahead as we head into SC.
At Dock Holiday's in Myrtle beach we get to Walmart for some warm clothes and chance to watch the election returns, then on to Georgetown, 3rd oldest city in SC. Here we find bookstores, cafes and bakeries vs. Walmart and CVS. On down thru the Cedar swamps in fog and rain and into Charleston where the sun breaks thru on the 5th, but cold nights ahead.
We enjoyed Charleston enough that we decided to stay for a couple of days walking the streets, wandering thru galleries, checking out the Aquarium and enjoying several restaurants. Even did a little thinking about this as a city one could call home!!