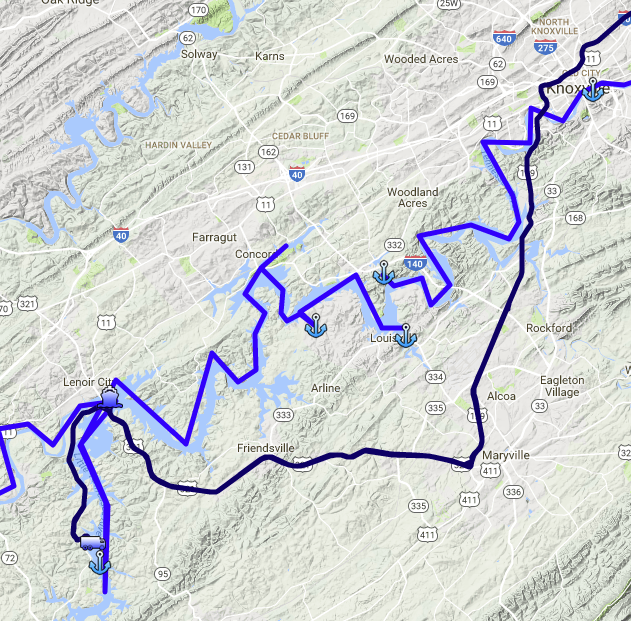 Dan, Marcia and Lola flew into Knoxville late on the 14th and spent the night at the Candlewood Suites by the Airport.
The morning of the 15th we took a cab to Steve Cox storage yard to pick up the GMC and headed off to meet Mike and Malli Gero at Tellico Marina on the Little Tennessee River where they finished up their week on True South. After a quick visit and lunch, we dropped them at the airport for their flight back to Boston. The Gero's have already signed up next years trip.
Returning to the boat, we decided to take one last trip up the headwaters of the Little Tennessee, about 10 miles upsteam. It was beautiful as we were starting up into the Cumberland Mountains. Our progress was stopped by a dam, we took a swim….Marcia will never fall for 'the waters fine' again, the water was 60 degrees.
On the morning of the 16th we headed by boat and camper to Harbourtowne Marine in Louisville, TN across the river. True South was hauled out and  made her ready for her road trip.
On July 20th, she was loaded on a truck and trucked about 600 miles over to Hemstead, NC and unloaded at Anchors Away Boat Yard.
In the capable of hands of Dennis Hollingshead, formerly of Hull, MA, she will be serviced and made ready for launch on Sep 18th.
In the meantime, its on the road again for Dan, Marcia, and Lola.