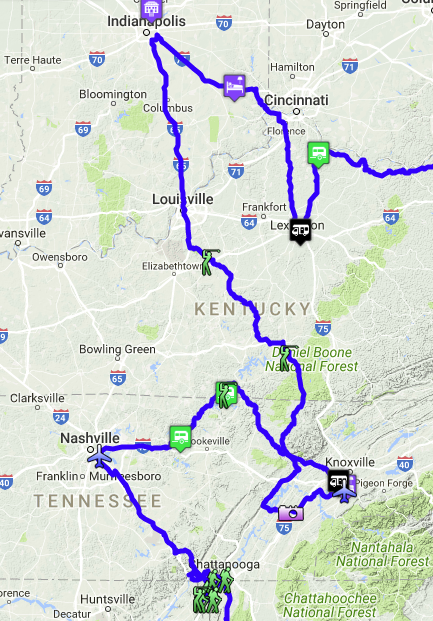 At Harbortowne Marine boatyard, where True South was made ready for her road trip, Dan tried to fix the water tank in True West that had started leaking. We stayed the night in a hotel at Maryville.
The next day we tried to find Prigmore, TN which shows up on Google Maps and our GPS system. My conclusion is that my forebears were not very good at selecting real estate locations at the center of economic activity….just a nice pasture. Dan has elected himself head of the Pr-more Family Association and has tracked over 10,000 members of the family with roots back into the 1600s.
Then off to General Burnside followed by My Old Kentucky Home state parks, both part of the Kentucky Golf Trail. There are 13 courses within the State Parks with 18 holes. Our goal is to do 5 in addition to one we loved at Dale Hollow. In each case, we will stay at the park camp ground for an average of $20/night….helps pay for the wine.
A short side trip in the Smart took us to the home of Dan's nephew Tom Prigmore and his wife Erica in Carmel, IN for a short visit. Due to a problem with the rooftop a/c unit, we laid over in a Hampton Inn and got the a/c unit serviced the next day at Blue Grass RV in Lexington, KY…just a relay switch.