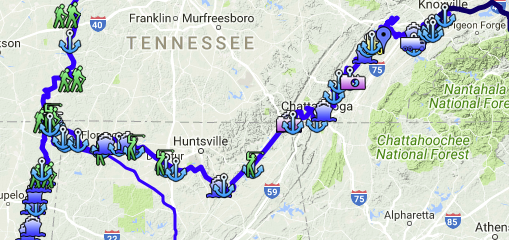 On this leg, Dan and Marcia travelled up the Tennessee River approximately 460 miles (north according to the lock operators) to its headwaters. Clearly the best part of the entire journey. Arriving in a rental car from Birmingham, Dan and Marica meet Peter and Diane at Grand Harbor Marina. On the 17th we all tour the Shilo Battlefield. …a moving experience. While the Tea Party may be at odds with the rest the citizens over the role of our government, as least we have not resorted the using the arms we have a right to bear, yet. Peter and Diane head back to Boston while Dan and Marcia get ready for a round of golf at Pickwick Landing.
This is a lazy trip averaging only 30 miles a day. On the 21st, golf at Shoal Country Club, one of a dozen Robert Trent Jones courses in Alabama State Parks….yes, much of the Tennesee River is in Alabama. Up thru Wilson lock with a 90' lift and on to Joe Wheeler for another day of golf….still not keeping score.
In Decatur, a day off the boat and golf at Point Mallard Park. Onto Goose Point Marina and another day of golf. As we arrive at Nickajack Lake on the 28th, a stop at Nickajack Cave. Dan's Prigmore clan settled near here in the 1790's. On the 2nd we went up the Hiwassee River and found the likely place were Joseph Prigmore, at 107, fell off his horse fording the river. For that reference to Prigmore family history, simply click on the name.
The 29th and 30th were spent in Chattanooga which we consider to be the best city we visited on the entire river trip. The twin Aquariums, the Hunter Museum, the restaurants and great parks. This was also the only city with good municipal docks.
July 3 we locked thru Ft. Louden, our last lock on the trip, only to be met with a wall of boats waiting for the big fireworks display that night. Anchored in a cove nearby…nice show. Up the Little Tennessee which was first flooded in 1979; therefore, all of the development here is post 1980. What a show place for ridiculous 10,000 sf faux chateaus….miles of them. Dan suggests building an international airport for direct flights to China as a way to clear the market.
On the 6th we meet Mike and Mali Gero at Volunteer Landing in Knoxville and have a nice dinner at Ruths Chris. The next day is devoted to an orientation on the boat as we head for Louisville Marina.  Here, Dan, Marcia and Lola depart for their trip back to Miami. On Jul 15th they meet up with the Gero's again for another handoff.