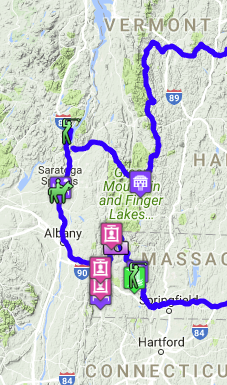 Having left True West (the Large Road Vehicle) for servicing, we got in the Small Road Vehicle and headed for the Hampton Inn in Fairhaven to get reorganized and get the laundry done.
On the 28th, Nan Neth and Jim Wolf took the ferry from Martha's Vineyard with their clubs and we got in 9 holes and a lot of laughs. After a lunch at Elizabeth's in Fairhaven, we dropped them at the ferry and headed for the Berkshires. George and Sue Ulrich put us up in their colonial home in Worthington which we used as a base to cover Dan's old stomping grounds. The Worthington Country club provided both golf and a fine dinner.
Our swing thru the Berkshires had us up Mt. Greylock, highest peak in Mass, then over to the Clark Museum in Williamstown, down to the Rockwell Museum after a lunch in Lenox and into Great Berrington for a B&B stop.
The next morning we stopped at the Hancock Shaker Museum outside of Pittsfield, MA before heading over to Saratoga Springs, NY. There we stayed in a B&B that was a Skidmore College dorm when Dan was at Union College about ten miles away. Tom and Claudine Hedbring were kind enough to take us to dinner at the Saratoga Country Club and let us use the company table at Saratoga Raceway the following day. Marcia was responsible for all of our losses.
In the morning, a round of golf at the Sagamore on Lake George followed by lunch. Then it was off to the Green Mountains of Vermont for a visit with Sy and Debora Raboy.