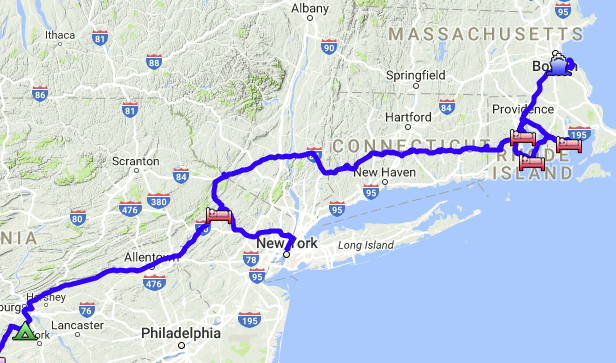 Sometimes the circumstances simply call for a change in the game plan. As we moved north, the nature of the state parks changed. In the south these parks were large with diverse resources such as lakes, golf courses, and very well equipped camp grounds. They were well run and clearly supported by many citizens of the states who were more oriented to the state parks than second homes.
As we moved north, the hookups in the parks first did not include sewer connection, then did not include water hookups, just basic electrical. With our leaking water tank, this became a real comfort issue; further, the heat continued to be unrelenting. The plan was to drop off the GMC at Fairhaven Shipyard for servicing at the end of our New England visit. Reconsidering the plan, we decided to go straight to Fairhaven, drop off the GMC and do New England in the Smart.
For the first time on the trip, we took to the interstates (the only place we seem to see other RVs on the move) and soon ended up in RI for a stop with Dan's brother Dave and his wife Ba. Marcia enjoyed a full sized bed and long showers. Lola enjoyed having lots of grass underfoot. Dan enjoyed the thought of packing everything we needed for two weeks into the Smart.