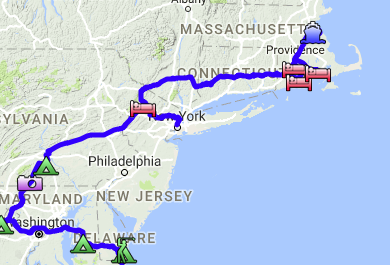 Returning from China, we spent a few days with some of Marcia's family in Topsail Beach, NC, then flew up to Boston to pick up the GMC for the trip south.
Its not common to have a lobster boat meet you at the airport and then have boiled lobsters on the way to Hull, but the Mahoneys are uncommon friends. After a night in Hull, it was off to RI to visit Dan's brother and two of his nephews and families. From there we headed over to Newport, RI for a couple of day visiting the Mansions and the Old Round Tower for 1421 fans. 1421 refers to Gavin Menzies book that declares that on March 8, 1421, the largest fleet the world had ever seen set sail from China to "proceed all the way to the ends of the earth to collect tribute from the barbarians beyond the seas." and one branch of this fleet ended up in Rhode Island.
Then it was on to visit Kristi in NJ, from there a Smart side trip to NYC with a visit to the Cloisters, a broadway show and Sunday morning at St John the Devine for the blessing of the animals…even Lola.
On to VA with first stop at Gettysburg, the Bluemont Vinyards to see Jennifer and Joe Shailor. A stop at the Kisielnicki family home on 44th Avenue…yikes 11 kids and one bathroom! A visit to the homestead gave Dan a much better appreciation of Marcia's sense of personal space. A stop at the Vince, Patsy and Megan Trovatos in Easton, Md , then on to see Marcia's brother Tom and a round of golf. Across the Chesapeake Bay in both directions, then up to see Dan's classmate Dick Rounds with golf at Indian Creek