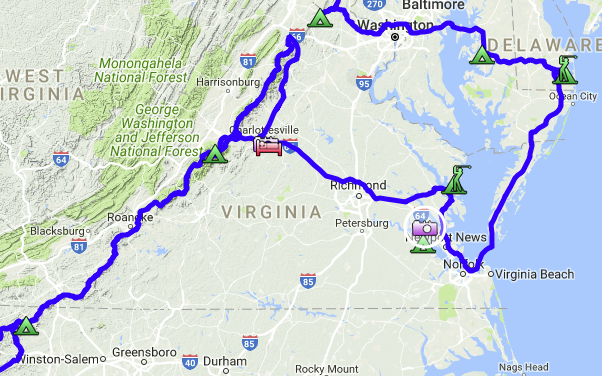 We continue south and establish our next base camp at Fairystone State Park. Again we use the Smart for side trips to a couple of rounds of golf and exploring. With a visit to Mt. Mitchell, 6,684 ft, we have now visited the most northern, Mt Washington and most southern peaks east of the Mississippi…looking forward to the Rockies.
We continue down the Blue Ridge Parkway thru the Shenandoah Mountains to Asheville where we will spend a few days exploring the richness of this area.
Grove Park Inn, the Biltmore Estate, art galleries, fine restaurants and a lovely setting. Having visited both Jefferson's estate at Monticello and Vanderbuilt's Biltmore Estate on this trip, we were stuck with the similarities between these two men and their dreams to create sustaining monuments. Both Jefferson and Vanderbuilt grew up with inherited wealth, were very highly educated and had world class libraries, both multi-lingual, and both self trained in design and construction. The technologies employed, the self sustaining nature of the estates with massive employment or enslavement and the ultimate financial failure of both. It would make an interesting book.