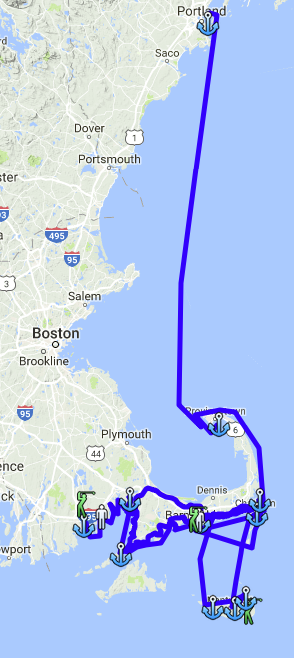 When we landed in Boston it was hotter than Miami but at Fairhaven there was a fog bank at the hurricane barrier and the temperature was about 75. A round of golf at Acushnet Valley then off to meet friends in Mattapoisett where the Calanos were kind enough to be our hosts.
We then cruised down Buzzards Bay to the Cape Cod Canal with an overnight at Onset, perfect timing for their illumination of the bay by placing last years flares on the beach all around the harbor. Coming back up the east side of Buzzard's Bay, we hopped over to Hadley's Harbor on the Forbes family end of the Elizabethan Islands.
On up thru Wood's Hole and the outside of Cape Cod to Hyannis where we caught up the Bob and Paula Garrow. Golf at Twin Brooks, then off to Nantucket where we spent our first night anchored by off Mataket. Alone as usual, we simply do not understand why power boaters in particular just go from marina to marina instead of enjoying all of the wonderful remote anchorages. From there we went to the other end of the island and anchored up in the Head of the Harbor. Some time ashore to wander the town and play a round of golf at Skinners.
From there it was back to Cape Cod for a couple of days where we rented a car and drove around stopping at every art gallery on route. Leaving Hyannis, we went around Monomoy Island and in thru the breach to Chatham Harbor with the seals.
It is about 60 miles from Chatham to Provincetown, this takes us along the National Seashore where there are only small pockets of development. Mostly it is beautiful beach with a cliff backdrop and only occasional groups of fisherman. En route we stopped to watch the whales frolicking and diving….what a sight! At Provincetown we joined the Hull Yacht Club gang and enjoyed the town and good friendship for a couple of days.
With the weather closing in, on Saturday we sprinted the 100 miles from Ptown to Portland, ME where we ended this leg of the summer's journey.