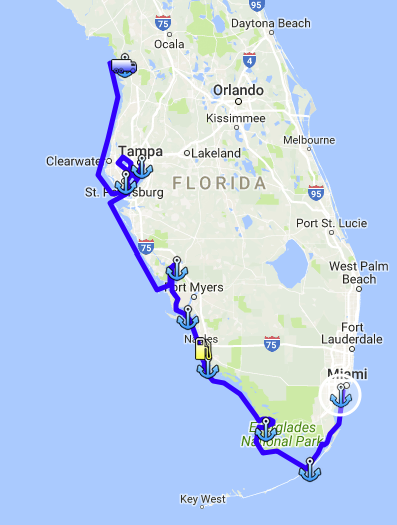 This first leg of the Summer 2010 travels on True South started in Miami and ended in St. Petersburg, FL.
From the winter dockage at Matheson Hammock County Park, we headed out for Islamorada Key where we docked among some noisy early morning fisherman. From there we cut across Florida Bay just above Duck Key and anchored up in the Shark River.
The Shark is on the west coast in the Everglades National Park and very beautiful. The next day we traveled east up the Shark and then west down the Harney River, about 50 miles thru the mangroves. Reentering the gulf at the mouth of the Harney, even at high tide was tricky trying to find a thread thru the tidal flats.
That night, the 9th, we were at Marco Island, then on to Fisherman's Village, and Naples. At Naples we fueled up, walked around and provisioned at the farmer's market.
At Ft Meyers Beach, we picked up a mooring ball and laid over on the 11th and 12th. Major blow with torrential rain on the 12th.
From there on to Tampa where we stayed at the downtown Marjorie Park Marina and then on the 16th we tied up at St. Petersburg Municipal Marina where we would leave the boat until we returned on May 12th.