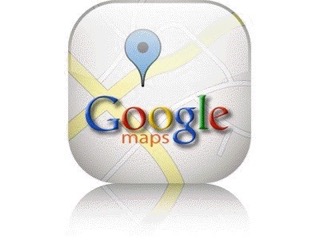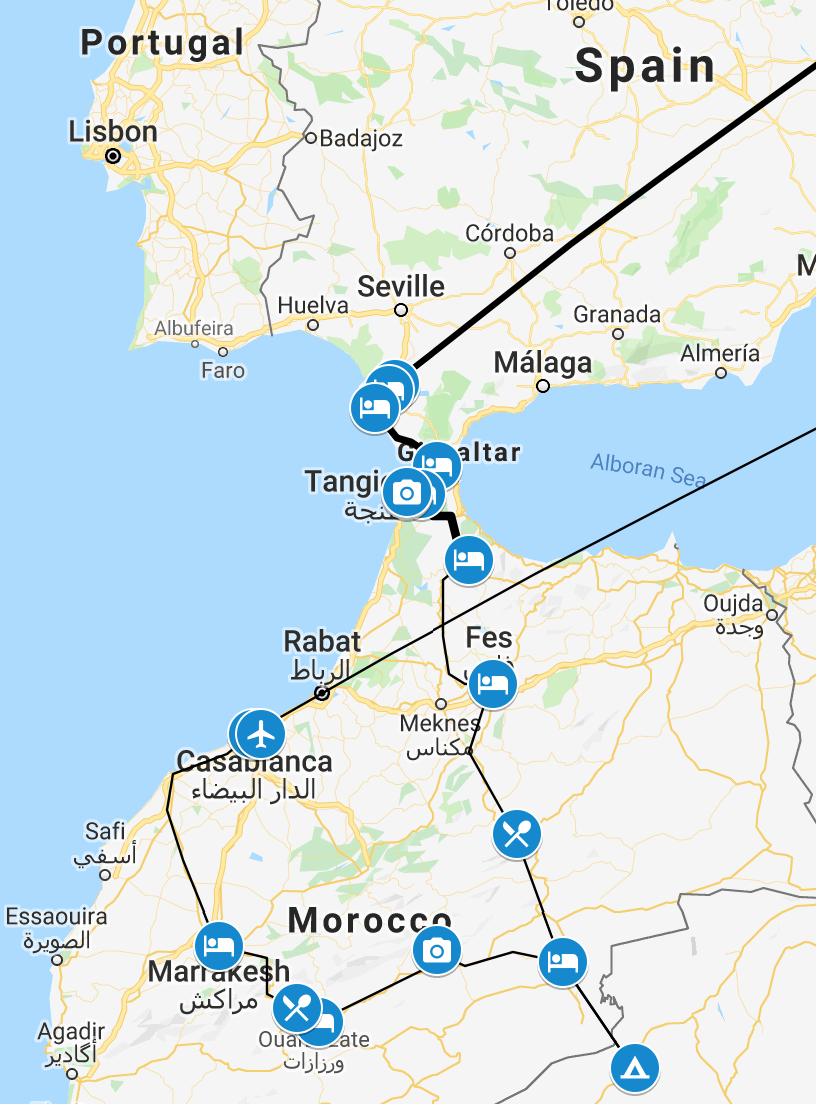 We arrived in Barcelona to be greeted by Anna who we have not seen since New Years. After taking care of some banking and visa details, we enjoyed a evening of jazz with Oriol and Eric. Then a flight to Jeres de la Frontera, Spain were we stayed at the wonderful Casa Palacio Maria Luisa hotel, a former palace. On to Cadiz that is a major  port city having been an entry for all trade with the America's starting in the 1600's. Our wonderful 2 star Hotel Casa de las Cuatro Torres (House of 4 towers) was built by a merchant family with the towers serving as lookouts for returning ships.  Next, a night in Tarifa, a small, touristic city with lots of windsurfing, small local shops, lots of wonderful restaurants serving local seafood and the 30 minute ferry to Tangiers. One thing that seemed to be totally missing was good public transportation. Its a good thing that the town is small enough to walk most everywhere. 
Moracco is a country of 35 million, 97% muslim but very tolerant of other religions and gay rights. The government is a constitutional monarchy with a well liked and respected monarch. The country is food self sufficient and an exporter of phosphate, textiles and agriculture. Water comes from a complex of 156 dams in the mountains built after a drought in the 1980's. The country has the largest single solar energy complex in the world and has now committed to build an even larger one with a goal of 30% renewable energy by 2030. While there is a great deal of infrastructure investment throughout the country, public transportation is very poor. In addition 40% of the population still works in agriculture, mostly done by hand.
Tangier's is a modern city with a wonderful waterfront park and brand new high speed train station. Lot's of new construction to complement the old Médina (walled city) on the hill. After a day there, we connected with our friend Sari Abul Jabain who joined us for this trip. Sari is originally Palestinian, came to New England in the 1960's and owed the Casablanca Restaurant in Harvard Square for 40 years. He is also fluent in Arabic.
The next day our driver, Driss, met us at the hotel and the tour started with a visit to the Hercules caves that were the source of mill stones for centuries. It is also here that the Atlantic meets the Mediterranean at the Staights of Gibralter.
On to the city of Chafcheaun, an independent state until the Spanish occupation from1907-57. The city is surrounded by mountains and appears as an a apparition of blues and white. The blue color was first used to discourage mosquitos, it is now a custom and is repainted 3 times a year. The only paint in town is white and many stalls sell the full range of color pigments. Built around the mountain bowl, it is a maze of pathways, and stairs. The residents still use the communal wood fired baths and bakers, but only a few goats remain in town. They say to cure, asthma, sleep with goat for a month.
On route to Fes we passed rolling hills cover with olives, then citrus, As the country leveled out we saw fields of wheat, onions, agave and chickpeas. This the most fertile region of the country. We stopped at Volubilis to view the ruins of a Roman city of 25,000 in early centuries built in a lush valley primarily a producer of olive oil. The city was abandoned  in 8th century with arrival of Muslims and later destroyed by Lisbon earthquake in 1750's. Restoration of this complex started 1920's. The scope of the Roman empire continues to amaze us.
A lunch of Kefta (grilled meat) lunch in a small restaurant on route to Meknez. This Imperial city (one of 5 in the country) was once the capital and is now the 5th largest with 1.5 million people. The walls surrounding the city stretch for 30 miles. The royal palace had enourmous storage bins for grain, water and a stable of 12,000 horses along with their feed. There is still a golf course within the palace grounds. Lot's of traffic and new construction in this city.
We stayed for two nights at a wonderful Palais Aman Riad (converted private home) in Fes. The city is divided into three sections, ancient, new (14th century) and then French.  The largest medina in Morocco is in Fes with 9,640 alleys with stalls, leather tanning, agave textile, and ceramics.  Our local guide on this stop was a little too commercial pushing ceramics, rugs, leather, and textile shopping. We did enjoy the ceramic studio where  we observed local artisans hand cutting the tiles for mosaics and artists painting pottering designs.
On our way to the desert, we first traveled up through the  Rif mountains, home of the Berbers.  Stopping at Ifran a ski resort looking like little Switzerland….who knew there is skiing in Morocco! The drive through the high plains led to a valley 30 miles long growing nothing but dates. We stayed overnight at the Palais Masandoia where we were the only guests. They were kind enough to serve dinner in the bar desfpitethe fact that Ramadan had started.  More driving with a stop at a marble fossil shop, this area has mountains of fossil. Late in the afternoon, a hand off to the desert team. An hour and a half camel 🐪 ride brings us to our tent, one of six. Only other guests were a Canadian couple. It was a great dinner, but the flies in the morning were a killer.
While friends have raved about the desert experience, we found it a very long detour for a less than exceptional experience. In the same time you could watch Lawrence of Arabia about ten times.
From the Sahara, we headed to Quarazate a long drive in flat and dry country. The solar complex here, the world largest including both solar PV and heated salt storage should be included in any tour.
On to wonderful Marrakesh where we spent two days, up thru the Atlas Mountains with a elevation peak of 7460 feet. Wonderful gorges, river valley, bee keepers and a full change of climate and topography on the other side. An impressive amount of infrastructure, primarily roads and power, throughout the country.
Marrakesh, modern on outside, timeless inside. The souk (marketplace) goes on forever with spices, threads, olives, and you name it. It also contains enough shoes and clothing to cover everyone in the world several times over. The Jardin Majorelle, resurrected by Yves Saint Laurent, is a small gem. The Machouar Kasba (fortress) is spectacular with it's Moorish plaster works.
Our final stop was Casblanca, a wasted day. Aside from a huge mosque that almost bankrupted the country, this city of five million has little to offer.
All in all, a wonderful trip organized by Experience It Travel is highly recommended.