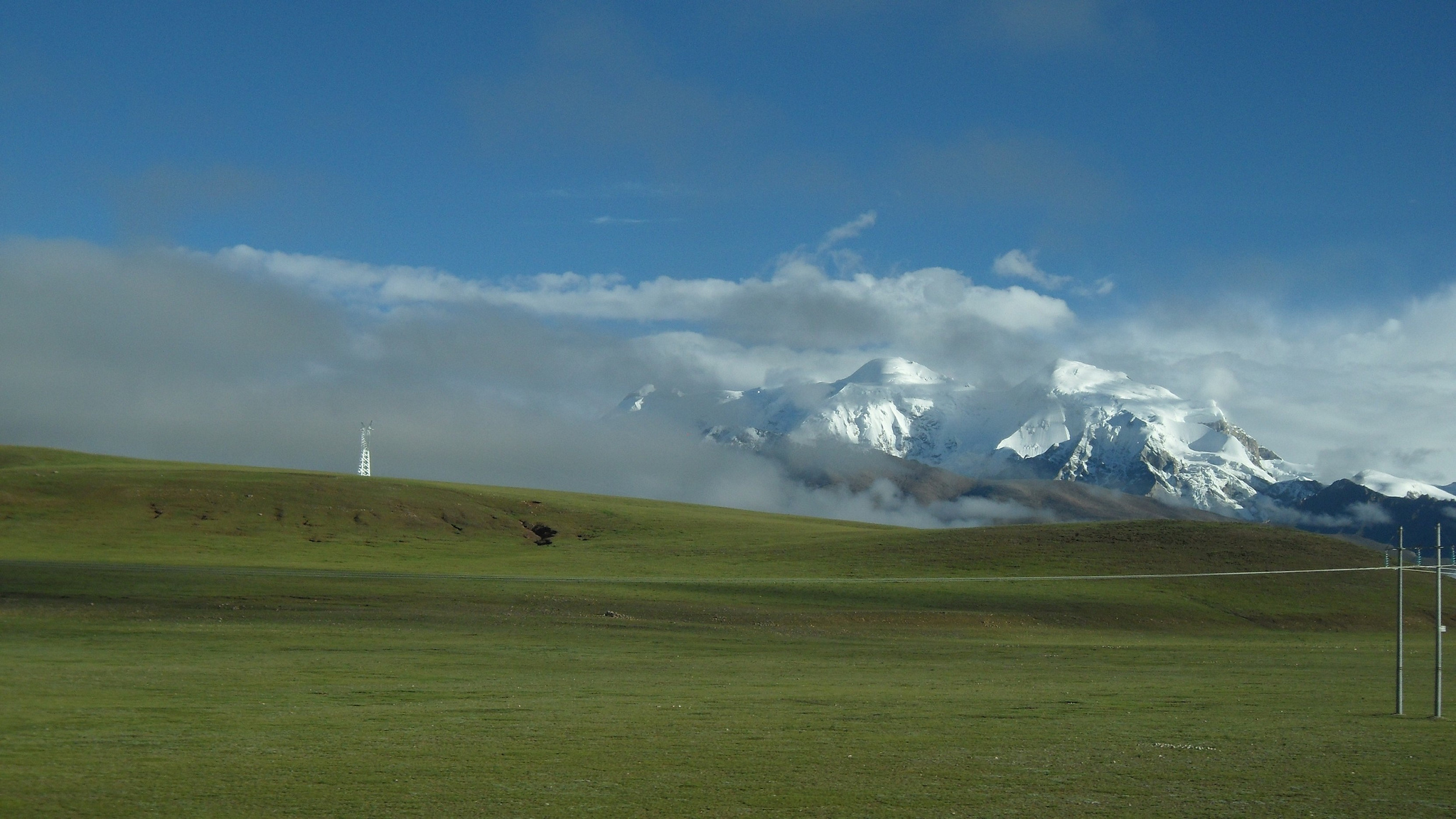 It's 6 am and we are off for a 12 hour ride on the only pressurized train in the world. Our average elevation will be 13,000 ft with a peak over 16,000 ft.
We travel in a first class compartment with four bunks, over and under. Additional oxygen is available at each bunk. We are the only Westerners on this train….as usual.
The trip starts out with snow capped mountains, plenty of yak and herdsmen but very sparsely settled.  The train has opened up Tibet and with it comes new electric lines, rebuilt roads and cell towers. Clearly, life was simple…yak, yak butter, yak meat, yak clothing, yak, yak, yak! While still simple for some, it's off to the city for a better life for many. For the Chinese government, their development of the smaller cities is essential to keep folks near home. There were a number of train stations that were not yet operating and so the journey continued…..talk about thinking for the future.
The middle of the trip brings hours of monotonous high plains….Kristi and Howard decide it is a perfect time to catch up on some much needed sleep. At 16,000 ft the attendant tells us that we are passing the highest lake in the world….it is the color of the Caribbean Sea. The only inhabitants taking advantage of the views are some yaks and sheep. We all speculate that there will be a 5 star resort here in 5 years……with oxygen masks!
We arrive in Golmund….it is now 9:30 and we have been on the train for 12 1/2 hours. It is an industrial city of 270,000….the smallest city we will visit on this trip. It is also home to the second largest salt lake (after the Great Salt Lake in Utah) which we visit in the morning.
The Chinese are harvesting the salt and other minerals employing 20,000 residents. We witness a shift change on our back to the city….we count 68 transit buses transporting the workers to the plant. Unbelievable.
But even more unbelievable is the news that the road to the airport has been shut down for a military exercise. Our industrious guide quickly takes charge of the situation and commands a couple of tuks-tuks to get us to our destination. Of course the airport is shutdown as well and all flights have been cancelled. Howard negotiates a lunch at the police commissary and it is excellent. The most important question of the day comes from our host who wants to know if American policeman can have a moustache and if suspects really stop on command….LOL!
Finally on the plane on to Xian with a layover in Xinging.