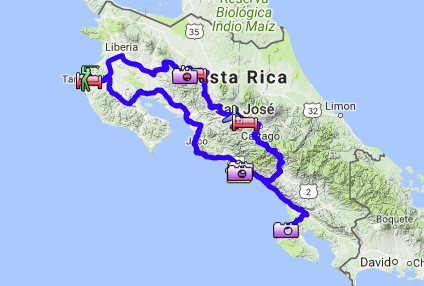 After hearing so many things about Costa Rica, Marcia, Kristi, Chris and I decided to take a couple of weeks and explore the country. An easy three hour flight brought us to San Jose. The Hotel Grano de Ora was pleasant, the pre-Columbian gold Museum was very good, the Keynote concert at the National Theatre was a treat, otherwise San Jose is a rathole with concertina wire everywhere.
A three and half hour drive thru the mountains brought us to Manuel Antonia about half way down the Pacific coast where we had rented a house for five days. We went white water rafting, toured the parks and chartered a boat for a tour thru the mangroves and down to the beach at Playa Blanca. Good, not great.
From there we drove to the north of the country still on the Pacific coast Cabo Veles, about four hours. We stayed at a gated resort, enjoyed the beach and played some golf….could have been anywhere in the Caribbean.
From there we drove east to the north central part of the country anchored by the Arenal Volcano. Are Arenal Nayara Hotel was 5 star and the tourista activities were many including the hanging bridges, the zip line, and the hot springs.
We have heard many say that if the next election goes the wrong way for the them, they are moving to Costa Rica. Well, good luck, no what the outcome this would not be our refuge.