These are the travels of True East, Sabre 48 #11 commissioned in 2012 and home ported in Coconut Grove, Fl where she visited once for two weeks.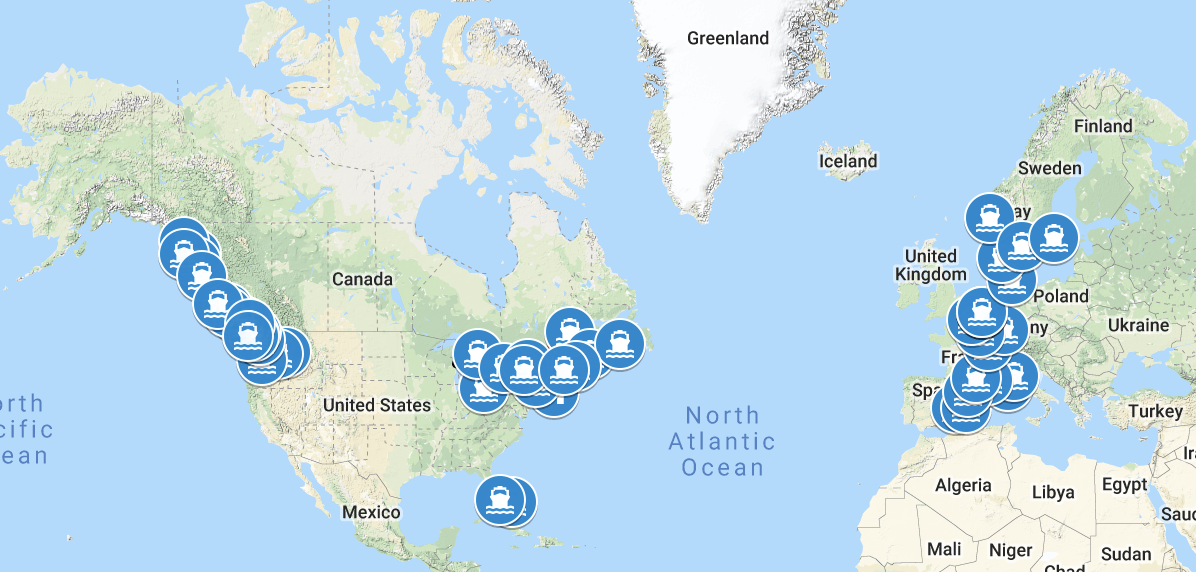 Below is a year by year layout of the journey, a click on the Google Map above will allow you to zoom in on the outline route for each area. Go to the blog posts for each year for the maps with the daily route and ports of each leg  and the post contains the related pictures.
Travels 2012 – Great Lakes
From Fairhaven, MA to Alexandria Bay, NY in the Thousand Islands via the Great Lakes and Canada. Best parts on this trip, west end of Erie Canal, Pictured Rocks Park on Lake Superior, Traverse City area of Lake Michigan, Macinac Island, North Channel and Georgian Bay on Canadian side of Lake Huron, Trent-Severn Canal, Rideau Canal to Ottowa and the Thousand Islands of NY. For a shorter version of this trip, we would recommend starting at Albany, NY taking the Erie to Oswego, across to Kingston, Ontario, up the Rideau to Ottowa, down the Ottowa River to Monteal, then down the Richaleau Canal to Lake Champlain and the Champlain canal back to Albany…..far superior to the Great Loop in our minds.
Travels 2013 – Canadian Maritimes
From Alexandria Bay out the St Lawrence River, around the Gaspe, Prince Edward and Cape Bretton Islands, the south coast of Newfoundland, St Pierre and Michalon Isands, Nova Scotia, Bay of Fundy, St. Johns River and northern Maine. This is a more adventuresome undertaking and requires a number of modifications to a stock Sabre.  A water maker is must, we added a 12v unit. A life raft, Type I life jackets, jack lines and a plan are required. Lots of cash to buy fuel and a little French are essential. Few of our readers will every do this trip, there were only 12 cruising boats in Newfoundland that summer. However, please adventure thru upper main to St Andrews and Campobello. St Johns and the reversing falls are really nice and give you a chance to appreciate the Bay of Fundy.
Travels 2014 – Pacific Northwest
In our experience, shipping big boats around is much more common that most people appreciate. Clearly, if you want a Sabre in the Northwest, it's going to get shipped by truck or my sea. The Sabre 48 pushes the trucking limits due to its height and requires lots of lead and follow vehicles and special permits and routing. That said, we had True East trucked to the upper reaches of the Columbia River. Highlights of the trip include crossing the Portland Bar, Tacoma, WA, the San Juan Island, Desolation Sound, the Broughton and Vancouver Island in BC. Most Pacific Coast cruisers do not go north of Seymour Narrows, the current will run 15 knots on the tide. While sea conditions are not an issue, isolation is and one must be prepared for self sufficiency…no Sea Tow up here. I deep knowledge of your boat systems, a good tool box and adequate space parts are a must.
If one plans to go north of the Seymour Narrows and  up into Alaska , a stock Sabre needs modifications. Take my Maritime list of life safety and watermaker and add long range VHF (we added an 18′ antenna), lots of road (400′ of chain), provisions for stern tie (we added aft windless), heat (we added buss heaters off the starboard engine) and lots of provisions (we added a second ref/freezer). We also learned that the Sabre 48 aft deck drains are insufficient when you bury the boat, as we did on the Columbia River, we took 6″ off the door to the swim platform to act as a scupper. It's a long haul to get there, but the prime area is between Ketchikan and Juneau where you can see glaciers, whales, and bears and in the same day. A great alternative to a cruise ship or you own boat is to do a bareboat charter on a Nordic Tug out of Juneau.

Travels 2016 – Return to Alaska
Returning from Alaska in 2015, Marcia said 'we can't go yet' referring to our plans for Europe. If you like wilderness, it's a magic place filled with resilient people away from the few cruise ship stops. While most cruiser take the 'inside passage' in southeast Alaska, we decided we would like to take the outside route on the way back and include the very remote Hiada Gui settlement in the Queen Charlotte Islands. We chose an express cruiser vs a trawler for it's 'run and hide' capability. I am comfortable with a six hour weather window and do not hesitate to leave at daybreak, we never cruise at night. Portland Bar, Gulf of St Lawrence, are Dixon Entrance are all dangerous bodies of water with the wrong currents, tides, and weather. All was well on this trip as we headed back down to Vancouver Island. At 27kts, 15 mile offshore in 300 feet of water we hit a 12′ long 'deadhead' (submerged log). Thankfully, we only lost the starboard Zues drive that came clean off.
Travels 2017 – Off to the Mediterranean with a stop in the Bahamas
"Your boats in Alaska and you want to take it to the Mediterranean Sea", are you crazy? Sell the boat in the Northwest at a premium and have Sabre build one to European standards and have them ship it over.
We have made over a hundred modifications large and small to True East to make it both comfortable and capable for our cruising. Put it on a ship! Ship 1, from Victoria, BC to Ft. Lauderdale. While in Florida, enjoy the Bahamas. Ship 2 from Ft. Lauderdale to Palma, Spain.
Five months and 3,000 miles of cruising  in the Med. From Palma to Barcelona then east to Cartegna, then west thru the islands to the coast of Italy. From there back along the coast to Barcelona.
Most striking was the absence of Americans and the lack of socialization at the marinas. This was offset of course by the fine food and crystal clear waters.
Travels 2018 – Rivers and Canals of France
There are a several ways to get from the Med to the North Sea. True East is too big for the Midi canal that cuts across southern France and we did not want to go the outside route around Gibralter, so that left one of the many routes through central France.
Most of these canals date from the 19th century and were built for barges that were towed along the canals. Having stripped everything off the roof, we were still dimensionally challenged. The average canal lock was 5.05 meters wide, we were 4.7. The typical depth was 1.5 meters, we draw 1.3. Finally, the bridges on our canals are listed as a having a minimum clearance of 3.5 meters, we are 3.4 meters…thats a generous 4 inches.
2004 Nautical Miles, 377 engine hours…. average speed 5.3kts. 1787 gallons of red diesel…1.12 nm/gallon. 387 locks on numerous canals and 12 rivers.
Six countries: Spain, France, Switzerland, Germany, Luxembourg and Belgium. 65 ports of call and no language skills….what a great trip.
Travels 2019 – The Eastern Baltic
Stay tuned.