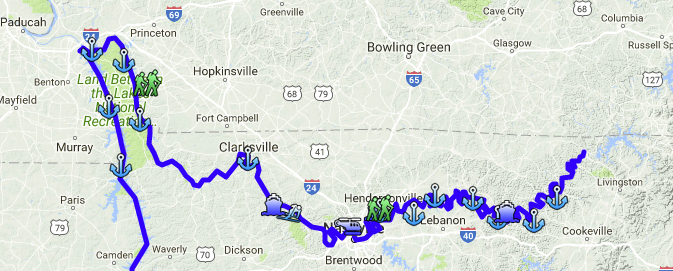 This leg of the trip covers 350 miles up the Cumberland River to its navigable head waters. The river was the subject of tremendous flooding May 1-3, Nashville was particularly hard hit. Watch the video on this site.
Clarksville, which has a very nice municipal dock was hit hard with the debris from up river. Based on the erosion of the river banks we saw, the trees are all ready to fall in during the next flood. As we approached the first lock, Cheatham, we were informed the control room had been flooded and they had restricted recreational traffic. After a discussion of our journey, the lockmaster agreed to lock us thru. We did not see one other cruising boat on the entire Cumberland River!
After clearing Old Hickory lock, tied up at Anchors High Marina on the 3rd and walked into town….again, a puzzling sight for the natives. Anchored in Bledsoe Creek on the 5th, then on an old lock wall below Cordell Hull lock on the 6th due to a delay at the lock. Spotted a boat having engine trouble, offered help to Greg and Elisa….turns out to be a cousin of the service manager of the boat yard where we plan to replace an alternator…small world.
On to Gainsboro at the end of the river where we meet Peter and Diane Mahoney.